Wednesday, September 17, 2014
UL-Listed COB PAR30 LED Bulbs Provide up to 80% Energy Savings over Conventional Halogen Bulbs
By LEDtronics, Inc.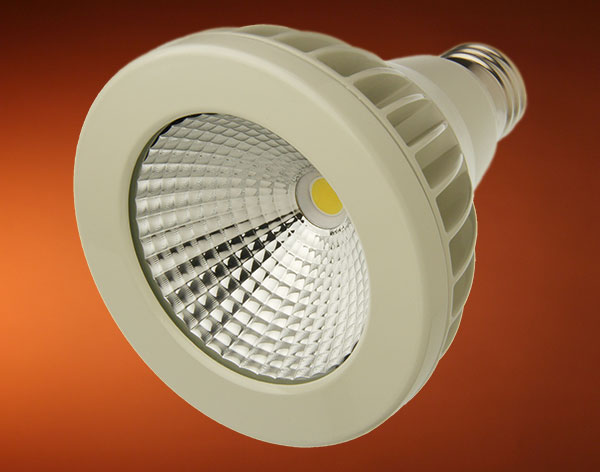 Torrance, Calif., Sept. 17 –LEDtronics® Inc., with more than 30 years of leadership in innovative LED lighting solutions, announces the newest member to its series of high-brightness, energy-efficient LED replacement bulbs. The LED PAR30C series of COB (Chip On Board) bulbs is ideal for indoor use in architectural/décor lighting, commercial applications, facilities, plants, hotels and resorts.
The PAR30C series comes with a clear, precision UV-stabilized polycarbonate lens that directs high-brightness 820 lumens in Warm White, 840 lumens in Natural White, and 790 lumens in Pure White LED color temperature. They have a 60-degree beam of light in a medium flood illumination pattern. The PAR30C bulb operates in a voltage input of 100 to 277VAC, offering long-lasting durability and easy drop-in installation in existing standard 26mm Edison screw-base sockets. This high-power bulb with high-grade COB LED replaces up to 60-watt halogen PAR30 bulbs, while consuming only 11 watts of power, resulting in tremendous energy savings of up to 80%.
These new state-of-the-art COB LED PAR30 bulbs are available in a Warm White 2750K to 3250K, Natural White 4000K to 4100K or Pure White 5000K to 5600K (other temperature colors available for qualified applications). As well, it boasts outstanding color fidelity with a CRI greater than 80 that enhances color nuances. In addition, these lamps maintain 70 percent or greater of LED lumens at 50,000 hours of operation — a lifespan many times longer than the equivalent halogen bulb!
Because LEDs have no filament, their solid-state design renders them impervious to shock, vibration, frequent switching and environmental extremes. These ROHS-compliant UL-listed COB PAR30 LED bulbs contain no harmful mercury or other toxic elements; and unlike incandescent bulbs, LEDs do not emit large amounts of heat, and little to no ultraviolet or infrared light. This makes them perfect for use in museums, hospitals, offices or areas where UV radiation might degrade the surroundings (such as illuminating valuable artwork, wine cellars or food service areas). The fact that they run remarkably cool also means they greatly reduce building air-conditioning load on energy.
These economical, high-quality bulbs are perfect in non-wet outdoor or indoor spot lighting applications such as track lighting, ceiling-can down-light fixtures, security and emergency lights, general/architectural and landscape lighting, display case fixtures and cabinet lighting, sign spot lighting, OEM equipment lighting, bio-medical and medical applications, museums or theatrical-effects lighting.
Since LED lights are much more energy efficient than halogens and other filament-style lamps, these bulbs are perfect operating with an alternative or renewable energy resource such as solar or wind power in cold or warm environments. Also, they reduce light pollution in outdoor installations and, as a result, are compatible with the international "Dark Skies" initiative.
The COB PAR30-style LED bulbs come with a 5-year LEDtronics warranty, and are available through LEDtronics distributors. Retail price is $22.25 each. Quantity discounts are available to qualified distributors. Availability is stock to 4-6 weeks for large-order requirements.
For additional information on how to incorporate incandescent-replacement, energy-saving COB PAR30-style LED bulbs into your facility lighting plans or architectural designs, contact LEDtronics toll free at 1-800-579-4875, telephone 310-534-1505, fax at 310-534-1424, email us at info@ledtronics.com or postal mail at LEDtronics, Inc., 23105 Kashiwa Court, Torrance, CA 90505.
About LEDtronics®
Based in Torrance, California, LEDtronics, Inc., since 1983 has been a world leader in designing, manufacturing and packaging Solid State Lighting products and state-of-the-art LED's to meet the world's constantly changing lighting needs—from industrial control panel LED indicator lights to solid-state LED street light fixtures, High-Bay, Flood Light fixtures, from direct incandescent- replacement based LED bulbs to direct fluorescent-replacement T8 and CFL LED tube lamps.
For more details and technical data, visit the product family web page:

http://www.ledtronics.com/Products/ProductSearch.aspx?searchStr=par30c