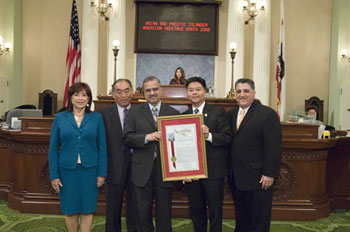 Enlarge Image
Left to right: Assembly Members Mary Salas (District 79), Alan Nakanishi (District 10), Mr. Pervaiz Lodhie, Founder and President of LEDtronics, Inc., Ted Lieu (District 53), Anthony Portantino (District 44).

SACRAMENTO - The California State Assembly observed May as Asian Pacific Islander American (APIA) Heritage Month with the adoption of Assembly Concurrent Resolution (ACR) 135 and a special Floor ceremony featuring the presentation of the Fourth Annual Asian Pacific Islander Heritage Awards. The awards were presented to prominent APIs who have demonstrated excellence in the areas of arts and entertainment, medicine, business, civil rights, community service and journalism. Mr. Pervaiz Lodhie, CEO LEDtronics, and a prominent Pakistani entrepreneur, was one of the award winners.

"This year marks the 30th Anniversary of the creation of Asian Pacific Islander American Heritage week," said Assembly Member Ted Lieu (D-Torrance), Co-Chair of the Asian Pacific Islander Joint Legislative Caucus. "We are proud to recognize these six honorees for the achievements they have made in their respective fields while advancing the progress of the API community."

"Each of these men and women has realized the American Dream," Assembly Member Nakanishi (R-Lodi), Co-Chair of the Asian Pacific Islander Joint Legislative Caucus, said. "They worked hard, achieved greatness, and are an example of leadership to Californians of every ethnic background."

The 2008 Asian Pacific Islander Heritage Award recipients were as follows:
George Kee Cheung - Excellence in Arts and Entertainment
Dr. Parampal Gill - Excellence in Medicine
Pervaiz Lodhie - Excellence in Business
Lillian Nakano - Excellence in Civil Rights
June Pouesi - Excellence in Community Service
Joey Quinto - Excellence in Journalism
ACR 135 commends California's Asian Pacific Islanders for their notable accomplishments and outstanding service to the state. It is authored by the ten Asian American Members of the Legislature: Assembly Members Mike Eng (D-Monterey Park), Warren Furutani (D-Gardena), Mary Hayashi (D-Hayward), Shirley Horton (R-Chula Vista), Ted Lieu (D- Torrance), Fiona Ma (D-San Francisco), Alan Nakanishi (R-Lodi), Alberto Torrico (D- Newark), Van Tran (R-Costa Mesa), and Senator Leland Yee (D-San Francisco). The Floor ceremony was also attended by Board of Equalization Vice-Chair Betty Yee (District 1).
The citation for the Award for Excellence in Business said:
" Pervaiz Lodhie established LEDtronics in 1983 in Torrance, California. Today, Ledtronics is one of the world's leaders in designing, manufacturing and packaging of energy efficient, environmentally friendly light emitting diode (LED) lamps to some of the world's largest Fortune 500 companies. Mr. Lodhie was the recipient of the United States Small Business Administration's Award for Excellence. He also founded and serves as Chairman of the Pakistani-American Business Executives Association and is a Founding Director and Trustee of President Musharraf's Pakistan Human Development Fund. He is an active member of the US Trade Advisory Committee for Congresswoman Jane Harman, and was recently invited to serve as a member on the International Circle of the World Affairs Council. In addition, Mr. Lodhie has served as Chairman of the Industry Advisory Board for the College of Engineering, Computer Science and Technology at California State University, Los Angeles. In 2004, he became one of the Founding Directors of PAL-C, a historic initiative that brought about the successful Pakistan Congressional Caucus in the US Congress. He is a past member of the World Affairs Council International Circle and is also a founding member of MCAC (Multi-Cultural Advisory Committee), a community outreach program initiated by the US Department of Justice on the west coast. Mr. Lodhie holds a Bachelor of Science degree in Mechanical Engineering from California State University at Los Angeles and was honored as its Alumni of the Year in 1999."