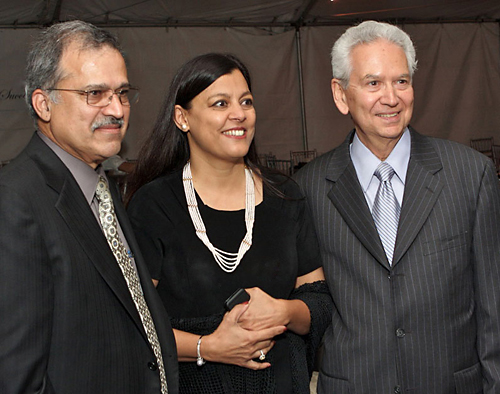 (Left to right) LEDtronics President Pervaiz Lodhie, Vice President Almas Lodhie and Adil Gandhi, Vice President and General Manager
Torrance, CA - Nov 21, 2008 - In September, Ledtronics celebrated its first 25 years of solid-state lighting design since the enterprise's founding by Pervaiz and Almas Lodhie. During the anniversary event at the Torrance, CA, headquarters, Ledtronics executives thanked employees and customers for making possible the company's successes to date, and for providing advanced technological opportunities for future achievements.
"My wife and I began this as a cottage industry in a suburban garage in 1983, finding buyers among the local aerospace firms," Pervaiz Lodhie, the company's president, explained. "We've grown into a multimillion dollar manufacturer with over 300 employees, with a 63,000 sq. ft. facility in California and a second plant in Karachi, Pakistan."
Joining some 200 employees and executives in the formal dinner ceremonies on September 19 were company friends, partners, longtime customers, and government representatives as well as affiliated organizations. Some of the guests included Frank Scotto, mayor of Torrance; Michael A. Gin, mayor of Redondo Beach; Syed Ibne Abbas, consulate general of Pakistan in Los Angeles; and Ahsan Wagan, deputy consulate general of Pakistan in Los Angeles.