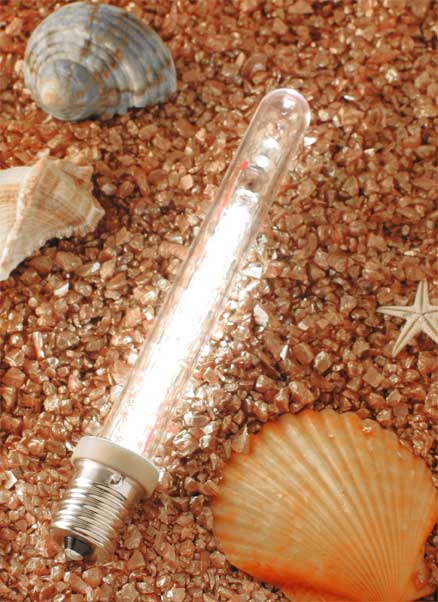 LEDtronics® announces the EXL-TPW Series Pure White LED Exit Light Bulbs that presents a much more reliable alternative to conventional T6 incandescent exit-sign tubes. Brighter, longer lasting, dramatically more power-efficient and maintenance-free, the EXL-TPW Series of exit-sign bulbs offers a sensible choice when it comes to replacing energy-hungry, short-lived and breakage-prone old-technology incandescent bulbs.

Due to LEDs have no filament, their solid-state design renders them impervious to shock, vibration, frequent switching and environmental extremes. With an average lifespan of more than 50,000 hours (5.7-plus years), white LED bulbs operate more than 20 times longer than the equivalent incandescent bulb! LED lamps produce almost no heat, and use up to 90% less operating power than equivalent filament-based bulbs, making them as friendly to the environment as they are to the operating budget.

The flame-retardant and impact-resistant polycarbonate resin construction of the LEDtronics EXL-TPW Series LED bulbs allows for greater durability as well as visibility in bright light when it may be too light to see your typical incandescent bulb light up. Complying with UL924 light output requirements, the EXL-TPW series exit LED bulbs provide the assurance of reliability when it comes to brightly guiding the way out of emergency situations such as heavy smoke. They are the ideal solution for a wide variety of applications ranging from above doorways in offices, emergency exits in hospitals, stairways in parking structures to theater fire exits, in addition to architectural décor.

For more details, the direct web link to the EXL-TPW Exit Light LED bulbs is:
http://www.ledtronics.com/products/ProductsDetails.aspx?WP=C604K220

About LEDtronics®
Founded in 1983, LEDtronics leads where others only follow when it comes to designing, manufacturing and packaging state-of-the-art LEDs to meet the world's constantly changing lighting needs. Our inventive product line encompasses an array of direct incandescent lamp replacement Based LEDs, low-cost snap-in and relampable Panel Mount LEDs, high intensity sunlight-visible Discrete LEDs, PCB LEDs circuit board status indicators, surface mount diodes SMT LEDs, full-spectrum rainbow RGB LEDs and Infra-Red (IR) LEDs.