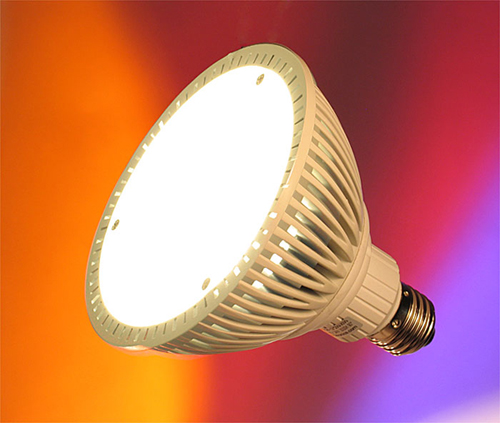 The PAR38 Series LED flood light features a magnesium alloy body in a solid-state design that facilitates energy savings of up to 85 percent compared to incandescent flood lights. © Photo courtesy of LEDtronics Inc. Used with permission.

LEDtronics, Inc., of Torrance, California, also chooses magnesium alloy housing for its energy-efficient LED warm-white and pure-white frosted soft flood lights. The PAR38 Series fixture's sturdy magnesium alloy construction weighs only 1.42 pounds, and maintains high shock and vibration resistance.

LEDtronics Marketing Manager Jordon Papanier explains: "Proper thermal management pulling heat away from the LED chip is required to maintain light output and the long life aspects of LEDs. Thermal management performed using the magnesium housing offers the best heat sinks, even better than copper."

The long-life LED flood light is used for signage, architectural and landscape lighting, security, aviation, industrial equipment, medical, and theatrical lighting.