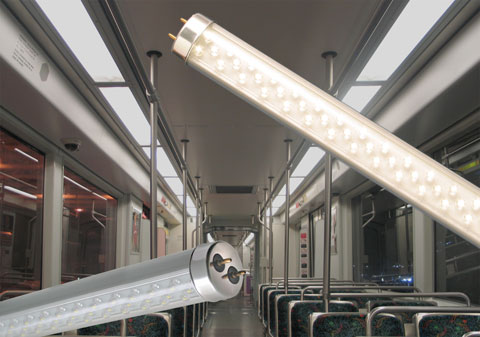 TORRANCE, Calif., September 1, 2010 — LEDtronics, Inc., announces energy-efficient, vibration-resistant T8 and T12/2-pin fluorescent-replacement LED tube lights that are ideally designed for passenger buses and railcars. The series LED48T8-288 Bi-Pin LED Tube Light fits into standard G13 bases and is designed to directly replace conventional T8 and T12 fluorescent tubes that provide interior lighting for light rail, motor coaches, buses, railway passenger cars, railway carriages, trolley cars and subway cars. The 48-inch-long LED48T8-288 tubes operate on a wide voltage range of 24 to 42 volts DC. They provide the equivalent light output of 24- to 32-watt fluorescents while typically consuming 21 watts at 30 VDC, and a maximum of 34 watts at 42 VDC.


Specifications:

* Part Numbers: LED48T8-288-TPW-24/42V-xx (see specs in table below)
* Wide-Angle Beam Pattern
* Line Input Voltage: 24Vdc to 42Vdc
* Energy Used: Typically 21Watts
* Color Temperatures: Pure Daylight White (Warm White optional for large orders)
* Ambient Humidity: =95% (non-condensing)
* Ambient Operating Temperature: ~-22°F to ~+122°F [~-30°C to ~+50°C]
* Lamp Shell: Polycarbonate Lens/Aluminum Body
* Dimensions: L47.16" × DØ1.18" (T12 collar ring, DØ1.40") [L1198mm × DØ30mm (T12 collar ring, DØ35.6)]
* Weight: 1.30 lb [588 g]
* These LED tube lights are currently not dimmable.
Direct product web link: http://www.ledtronics.com/products/ProductsDetails.aspx?WP=C945K2066