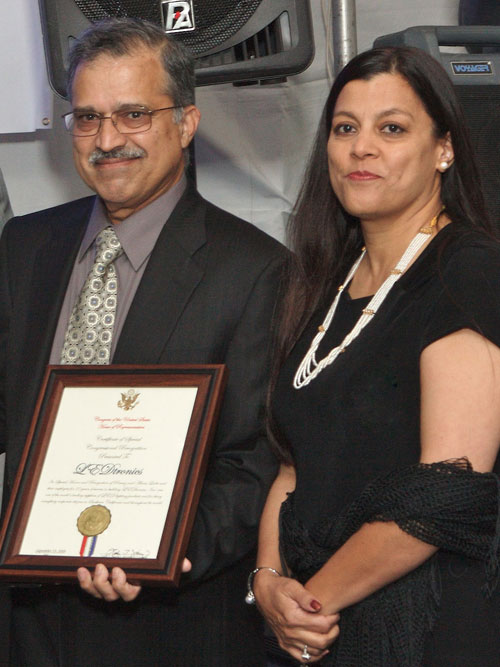 Enlarge Image
LEDtronics President Pervaiz Lodhie and his wife, Vice President Almas Lodhie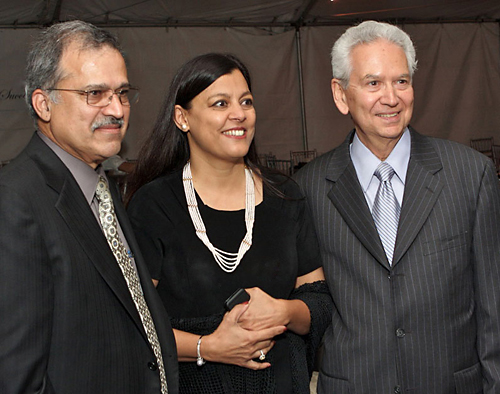 (Left to right) LEDtronics President Pervaiz Lodhie, Vice President Almas Lodhie and Adil Gandhi, Vice President and General Manager
Have you ever been captivated by the occasion or seen someone who has? For if you have then you will know that the mind can take you into a realm and reveal a reality that is beyond comprehension and logic. When we are witnesses to such instances it is as if the person being observed is frozen in motion and held in a graceful poise in the midst of their actions as the calmness of their demeanor and the complete absorption of their thoughts and emotions encapsulate the moment into a single unified whole. This is the point at which the definitive junctures of truth and the synopses of one's life marry in harmonious union and immortalize names into the books of history and implant memories into the generations that have yet to come. The strength of that union and hence the immortality of one's essence is proportionally dependent on the truth of one's life and the depth of the synopsis.
Standing ready before an expectant audience Pervaiz Lodhie knew that he was at that very conjuncture. It was the 25th year celebration of the firm (LEDtronics) he co-founded with his wife, Almas. However, in amongst the celebration, the speeches, the laughter, the food and the drink it was the time to finally consecrate the two aspects of Mr. Lodhie's life in an emotional biographical oration. Pervaiz Lodhie held the hands of his guests and walked them through the journey of his life. He began with his role as the son of not only his parents, nation and culture but the adopted nation he has called home for 40 plus years. He played the role of a brother to his siblings but learnt in his newfound home to become a brother to all of mankind. He married a devoted woman and thus found himself not only a wife but a partner, friend and confidant that he could depend on with his life. He eventually became a father both to his family and the firm that he founded. He could then nurture his business and build his family all under God's grace. A truly wonderful approach, balanced in proportion, yet rich in substance.
It was at this precise time in the evening's event that one could clearly identify in Mr. Lodhie the countenance of realization that the virtues of success and accomplishment had manifested their value and worth in the disguise of distinguished guests, noble personalities and his employees, all paying homage to the feats of the man himself.
The list of dignitaries was impressive as a few of the household names in attendance will testify such as Dr. Naseem Ashraf, a former Pakistani minister, chair of the PCB and NCHD had flown in just for the occasion, the impervious nonchalant Najeeb Ghauri, CEO and founder of NetSol, the Pakistani Consulate and government was represented by the very congenial yet sagacious Syed Ibne Abbas, the local congress people could not attend in person but sent substitutes that communicated their commendations and presented awards. Even the FBI recognized Pervaiz's contributions to their respective advisory boards, the local community, and the nations that he held so dear to his heart.
However, the most important and veracious comments were made in private by the LEDtronics staff and representatives who had traveled as far afield as the UK to be in attendance. Pervaiz Lodhie played the gracious host till the end and declared rightly that he felt the evening belonged not just to the Lodhies but also to all his staff and representatives.
So after a hard emotional night of recollection, celebration and tears, Pervaiz Lodhie managed to find time and invite me to sit down with him and explore the journey and the path that he took to get him to this point.
I began by engaging him on the phenomenal success that he had enjoyed with LEDtronics, what the underlying reasons were for the success it has experienced.
"Well the business of LEDtronics came about 25 years ago in our kitchen when my wife and I decided to establish a business around an industry and product I knew well and had worked with before. I knew how LED's worked and I had worked previously with my brother in another firm that I had co-founded with him and his wife. So I knew that what we had would almost revolutionize the world of lightening and although it was a tough start we created the firm LEDtronics in our kitchen and specialized in the design, manufacture and packaging of LED products. I am a packaging engineer; I put things together so I could really have made any type of business succeed because I followed the proper rules for business and planned well."
I wanted to know if this process of establishing his own firm was the culmination of experience and insight that he had gained when working with his brother.
"In 1972 my elder brother who was an electronics genius started a company. I was the expert of all things mechanical and his wife was responsible for administration. We created display products and indicators. Also we had an automotive facility in Karachi and I actually went back to Karachi to run the facility in 1976 to around 1980. It was a highly volatile era so I sold the business and went back to the US to rejoin my brother. On my return to the US I unfortunately found a much politicized atmosphere at the company and decided to leave. After leaving I asked myself what I wanted to do next and I instantly knew it had to be something I was good at. I had made lights with my brother and so I started to make low energy light sources with my wife and we started this in our kitchen. You know on starting this business I wanted to be the GE of the light bulb industry and now GE is one of our largest buyers. Obviously this success has not come overnight. We have systematically created a foundation upon which we have continuously built. But the foundation has been strong and that's important."
It seemed as if there was quite clearly a very strong moral philosophy that was the driving force behind this success. So I wanted to know if the desired goals at inception had been achieved and what was the next area of focus.
"We spent some ten years to get the company to where it is now. Initially we set our sights on becoming global and huge. You know nature does miracles for you when you are set on doing something. However, in the last 25 years my company has remained fairly small but is doing business with some of the biggest companies in the world. We have helped create wealth which can amount to billions of dollars for my customers and that in turn has created jobs. So in reality we managed to achieve much more than I could have initially planned or set as an objective. I would like to think that I am a process pioneer; an innovator who has and will continue to create jobs and opportunities for people globally."
What project or service has he been involved in that really stood out? "Twenty-five years is a long time and every single order and transaction is as important as another. From making small LED components for fighter planes to JFK airport testing our street lighting system, these are examples of a very successful and obviously very good product that has developed good credibility and demand. I would also like to mention that one of the things that I am also very proud of is that I played a small yet significant role in the Energy Bill that President Bush signed in 2007. Congresswoman Jane Harman consulted me on this issue and I gave my input and changes were made. The Bill will in effect enforce by 2015 that no filament bulbs are to be used. Filament bulbs currently waste around 95% of the energy they consume and only utilize around 5% for the light you see. The conversion to fluorescent or CFL lightening will give you 60% more light using the same energy. However, the eventual conversion to LED lights will see the biggest changes as LEDs use 1/3 of the power of fluorescents whilst providing as much if not more light. This decreases light pollution and the amount of energy that is ultimately wasted."
Pervaiz was extremely animated and consumed by his passion for all things LED and their effect on the environment, health and cost. I know that passion is definitely a base ingredient for any entrepreneur and when that is compiled with a healthy concern for the world it can only lead to greater innovations and discoveries. Thus I wanted to explore the character and the history of the man to identify where and when these qualities were imbued into his personality and essence. I asked him to reflect upon his upbringing and his younger years and what he experienced.
"My family like many of millions of families at the time of partition migrated to Pakistan in 1947 from Delhi and settled predominantly in the Punjab and Karachi regions. I was only three years old at that time so I don't remember too much but I know that my four elder siblings and I by all accounts were very fortunate to have made it out alive and all together. I remember my brother recalling an incident where prior to our departure from Delhi I was standing on our garden or house wall and shouting as loud as my little lungs would allow me that 'we are going to Pakistan… we are going to Pakistan' over and over again until my elders grabbed hold of me and gave me a right telling off. I suppose looking back in hindsight it was not the best of times or ways to be advertising such news.
"However, once in Karachi we settled in well I received a predominantly technical education at one of the best schools in Asia - the Bai Virbaiji Soparivala Parsi High School. The school was very heavy on practicality as a teaching method and thus I gained some valuable experience before going to study at the DJ Science College.
"So it was kind of inevitable that I would end up as a 3rd generation engineer. My grandfather was a civil railroad engineer and my father was an automotive engineer. So I grew up in a very technical orientated environment. It was a natural line of interest for me. However, the real lessons that I learnt were more to do with moral and ethical values that both my father and grandfather really showed me as opposed to just preaching them. They both worked hard and never sought any handouts. We moved to Pakistan with nothing so we had to really work hard to build everything back up. I remember my grandfather was offered the equivalent positions and even wealth as he had in India but he refused and worked his way back up the ladder. So I learnt by example and although we had pretty much everything required I always had to find ways to generate my own pocket money, which really taught me how to be an entrepreneur and become self-sufficient. So I worked and made entrepreneurship a way of life. I remember making spinning tops, toys, aquariums and even fixing broken bikes. These are the experiences that taught me how to be practical, innovative and productive. From these skills I learnt to become a problem solver and so learnt to love fixing and making things. Applying innovation and seeing it work provided further inspiration for more work. So I think my future was taking shape at an early age and I was probably learning the necessary skills without realizing it at that time. Also a very strange yet fortunate turn of events really changed the course of my life. I was transferring to NED in 1963 but was by incidental chance introduced to one of the real tycoons of the wool and yarn industry in Pakistan and they were selling to an international market so they produced the best of the best material available. I was around 23 years of age and asked to set up and manage a whole woolen yarn production unit. This was responsibility beyond my expectation and hope at that time. However, looking back it turned out to be a great experience and really enhanced my own talent for production and innovation."
Reflecting upon Pervaiz Lodhie's earlier life one could clearly decipher that fate had prepared him for his destiny and that Pakistan had been a good breeding ground. So I wanted to know how prepared he was for the next and most crucial stage of his life, the move to the US and how he found the whole experience, now that he could with some nostalgia look back upon that period.
"Well it was my elder brother Qamar (an electronics engineer) who was already in the United States who asked me to move over to the US and complete my education. So without much persuasion due to the lore of the US I set off in1967 and arrived directly in LA. Initially I enrolled at the Pasadena City College but soon after transferred to California State University to study for a BS in mechanical engineering. I can recall that even then I studied very hard during the day and then worked nights to pay my way in the stock room of Burroughs Corp. preparing kits, accounts and inventory. This was an excellent experience as it initiated me into a hard work ethic mentality for which the US was renowned. Looking back I can say quite clearly that the American dream is essentially all about hard work and effort, which will eventually translate into the material success that most people are seeking. I think I found these principles to be very true here. When I now reflect back upon the era I can describe a time of great innovation and entrepreneurship that really inspired me. I think I was very fortunate to be