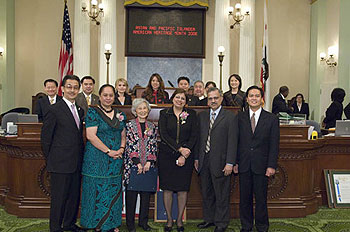 Enlarge Image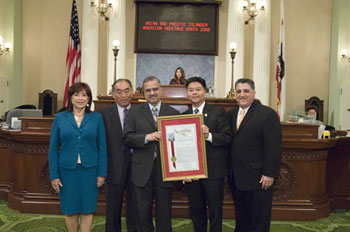 Enlarge Image
Left to right: Assembly Members Mary Salas (District 79), Alan Nakanishi (District 10), Mr. Pervaiz Lodhie, Founder and President of LEDtronics, Inc., Ted Lieu (District 53), Anthony Portantino (District 44).
Asian Pacific Islander American Heritage Month Celebrated at State Capitol
Prominent APIs Receive API Heritage Awards
Sacramento - The California State Assembly observed May as Asian Pacific Islander American (APIA) Heritage Month today with the adoption of Assembly Concurrent Resolution (ACR) 135 and a special Floor ceremony featuring the presentation of the Fourth Annual Asian Pacific Islander Heritage Awards. Awards were presented to prominent APIs who have demonstrated excellence in the areas of arts and entertainment, medicine, business, civil rights, community service and journalism.
"This year marks the 30th Anniversary of the creation of Asian Pacific Islander American Heritage week," said Assembly Member Ted Lieu (D-Torrance), Co-Chair of the Asian Pacific Islander Joint Legislative Caucus. "We are proud to recognize these six honorees for the achievements they have made in their respective fields while advancing the progress of the API community."
"Each of these men and women has realized the American Dream," Assembly Member Nakanishi (R-Lodi), Co-Chair of the Asian Pacific Islander Joint Legislative Caucus, said. "They worked hard, achieved greatness, and are an example of leadership to Californians of every ethnic background."
2008 Asian Pacific Islander Heritage Award Recipients:
George Kee Cheung - Excellence in Arts and Entertainment
Dr. Parampal Gill - Excellence in Medicine
Pervaiz Lodhie - Excellence in Business
Lillian Nakano - Excellence in Civil Rights
June Pouesi - Excellence in Community Service
Joey Quinto - Excellence in Journalis
ACR 135 commends California's Asian Pacific Islanders for their notable accomplishments and outstanding service to the state. It is authored by the ten Asian American Members of the Legislature: Assembly Members Mike Eng (D-Monterey Park), Warren Furutani (D-Gardena), Mary Hayashi (D-Hayward), Shirley Horton (R-Chula Vista), Ted Lieu (D- Torrance), Fiona Ma (D-San Francisco), Alan Nakanishi (R-Lodi), Alberto Torrico (D- Newark), Van Tran (R-Costa Mesa), and Senator Leland Yee (D-San Francisco). The Floor ceremony was also attended by Board of Equalization Vice-Chair Betty Yee (District 1).

Award for Excellence in Arts & Entertainment

George Kee Cheung is one of the most recognized Chinese-American actors in Hollywood. He has appeared in over a hundred films and television shows. Mr. Cheung has also guest-starred in many network TV shows such as "NYPD Blue," "Walker Texas Ranger," "Kung Fu," "Xena," "Martial Law," "West Wing," "Dark Angel," and most recently, "Commander in Chief" and "How I Met Your Mother." His movies have included "Rambo II," "Rush Hour," "Lethal Weapon 4," "Underseige," "Starsky and Hutch," "Pursuit of Happyness," and "American Fusion," among others. Mr. Cheung came from Hong Kong and graduated from the University of San Francisco with a Biology degree. Knowing the microscope and medicine were not his calling, he shifted his focus to hotel management prior to the movie industry. After some friendly persuasion from his good buddy Clint Eastwood, Mr. Cheung decided to make the big move to Hollywood. A month after that he got to co-star with the late Robert Mitchum in the movie "Amsterdam Kill." The rest, as they say, is history. Although his career is in Hollywood, Mr. Cheung has never forgotten his roots. He has volunteered his time and services in many political and charitable functions and events. He was the well-loved master of ceremony of the Miss Los Angeles Chinatown for seven years. He is currently in a development deal with NBC to produce an action-adventure pilot.

Award for Excellence in Medicine

Dr. Parampal Gill has brought credit and distinction to herself as Chief of Staff at St. Joseph's Medical Center in Stockton since 2008, of which she was previously the Vice Chief of Staff. In addition, Dr. Gill served as Chief of Staff at Lodi Memorial Hospital from 1992 to 1993, and as the Chief Resident of the Department of Obstetrics/Gynecology at San Joaquin General Hospital. She has been a member of the Board of Directors of Lodi Memorial Hospital for the past 12 years and has been known for her outstanding leadership and guidance throughout her service. As a member of the Board of Directors of Lodi Memorial Hospital, Dr. Gill has stood firm to the hospital's mission to improve community health and the quality of life through direct and/or supportive services; provide quality and timely health care services, ranging from health promotion and education to diagnostics, acute-impatient care, rehabilitation services, and home care. She has been an active staff member at St. Joseph's Hospital in Stockton and Lodi Hospital member since 1984 and is affiliated with the American Medical Association, California Medical Association, San Joaquin Medical Society, American College of Obstetrics and Gynecology, and is a Diplomat of the American Board of Obstetrics and Gynecology. In addition, she has been inducted into the Lodi Community Hall of Fame and earned honors in preventative and social medicine. She is a graduate of Jabalpur University in India with a Bachelor of Science degree, with honors, and earned her Doctor of Medicine degree at the Medical College of Jabalpur.


Left to right: Assembly Members Mary Salas (District 79), Alan Nakanishi (District 10), Mr. Pervaiz Lodhie, Founder and President of LEDtronics, Inc., Ted Lieu (District 53), Anthony Portantino (District 44).

Award for Excellence in Business

Pervaiz Lodhie established LEDtronics in 1983 in Torrance, California. Today, Ledtronics is one of the world's leaders in designing, manufacturing and packaging of energy efficient, environmentally friendly light emitting diode (LED) lamps to some of the world's largest Fortune 500 Companies. Mr. Lodhie was the recipient of the United States Small Business Administration's Award for Excellence. He also founded and serves as Chairman of the Pakistani-American Business Executives Association and is a Founding Director and Trustee of President Musharraf's Pakistan Human Development Fund. He is an active member of the U.S. Trade Advisory Committee for Congresswoman Jane Harman, and was recently invited to serve as a member on the International Circle of the World Affairs Council. In addition, Mr. Lodhie has served as Chairman of the Industry Advisory Board for the College of Engineering, Computer Science and Technology at California State University, Los Angeles. In 2004, he became one of the Founding Directors of PAL-C, a historic initiative that brought about the successful Pakistan Congressional Caucus in the U.S. Congress. He is a past member of the World Affairs Council International Circle and is also a founding member of MCAC (Multi-Cultural Advisory Committee), a community outreach program initiated by the U.S. Department of Justice on the west coast. Mr. Lodhie holds a Bachelor of Science degree in Mechanical Engineering from California State University at Los Angeles and was honored as its Alumni of the Year in 1999.

Award for Excellence in Civil Rights

Lillian Nakano was born in Honolulu, Hawaii in 1928. During World War II, Lillian and her family were sent to internment camp in Jerome, Arkansas and later Heart Mountain, Wyoming. During the historic movement to fight for Redress and Reparations from the U.S. government for the uprooting and incarceration of 120,000 Japanese Americans into the internment camps in the late 1970s, Ms. Nakano and her husband, Bert, were heavily involved with the campaign. Mr. Nakano became the National Spokesperson for the National Coalition for Redress and Reparations (NCRR), one of the several major national organizations involved in this movement. Ms. Nakano was also involved with NCRR, organizing marches, rallies, events, as well as doing outreach and education – especially in encouraging those from the Nisei (second generation Japanese American), and particularly Nisei women, to come forward and speak out about the Camps and their experiences. For women of Ms. Nakano's generation, there were additional challenges in overcoming their traditional roles in order to step forward and become active. In the early 1980's, the Commission on Wartime Relocation and Internment of Civilians was created and held public hearings in key cities across the country. Ms. Nakano helped to organize people from the community to tell their stories to the Congressional Commission and to mobilize in numbers to show support for Redress and Reparations. Ms. Nakano is currently retired and continues to keep in touch with community activities. In addition, she continues to teach shamisen (traditional Japanese string instrument) to local students, lives in Torrance, and spends most of her time enjoying her two grandchildren.

Award for Excellence in Community Service

June V. Pouesi is the Director of the Office of Samoan Affairs (OSA), a community based organization founded in California in 1976. The mission of OSA is to provide culturally appropriate social services and advocacy for the disenfranchised, low income, and at-risk members of the Samoan/Pacific Islander community. As Director, Ms. Pouesi has been at the forefront of all major issues impacting and affecting the Samoan/Pacific Islander community. She has advocated for this community for well over 24 years, since she left her prior occupation as an elementary school teacher in 1983 to become a teacher and leader of adults. She provides Samoan/Pacific Islander "cultural awareness" to communities, community leaders, business leaders, spiritual leaders, and policy makers. As Director of OSA, she is very hands-on with her programs, serving as a counselor, educator, and mentor, as well as a Samoan dance instructor for the after school program. Her great understanding of people and personalities allows her to work with all individuals. Other OSA services have since expanded to be inclusive of all groups, demonstrating her advocacy is not only limited to one community, but to all. Ms. Pouesi is well respected and trusted in her community, as well as throughout Southern California.

Award for Excellence in Journalism

Joey Quinto is the publisher of the California Journal for Filipino Americans, a weekly newspaper located in Torrance, California. The California Journal For Filipino Americans provides readers news from the Philippines, consumer and business news, and updates from government agencies and community events. In 1996, the California Journal for Filipino Americans was awarded as the Media Advocate of the Year by the U.S. Small Business Administration. Additionally, in 1997 the Journal was awarded with the Minority Media Award for journalistic excellence in the ethnic community from the Los Angeles Minority Business Opportunity Committee. Mr. Quinto has won many awards, including the Star Suppliers of the Year of the Southern California Regional Purchasing Council (SCRPC) in 1999 and a leadership award from the Filipino American Chamber of Commerce based in Los Angeles. Mr. Quinto was also the Chair of the California Small Business Board and an elected delegate to the White House Conference on Small Business. Mr. Quinto resides with his wife Carlyn and daughter Carlette in Palos Verdes, California. He was born and educated in the Philippines and has a Bachelor of Science Degree with a major in Marketing from San Beda College in Manila, Philippines. He is also a graduate of the Minority Business Executive Programs of the Tuck School of Business at Dartmouth in Hanover, New Hampshire.

Download: APILC Press Release (PDF)

More Photos & Link to: Asian Pacific Islander Legislative Caucus