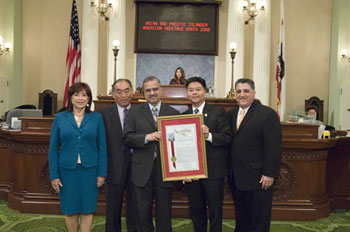 Enlarge Image
Left to right: Assembly Members Mary Salas (District 79), Alan Nakanishi (District 10), Mr. Pervaiz Lodhie, Founder and President of LEDtronics, Inc., Ted Lieu (District 53), Anthony Portantino (District 44).

SACRAMENTO - The California State Assembly observed May as Asian Pacific Islander American (APIA) Heritage Month today with the adoption of Assembly Concurrent Resolution (ACR) 135 and a special Floor ceremony featuring the presentation of the Fourth Annual Asian Pacific Islander Heritage Awards. Awards were presented to prominent APIs who have demonstrated excellence in the areas of arts and entertainment, medicine, business, civil rights, community service and journalism.

The 2008 Asian Pacific Islander Heritage Award Recipients are George Kee Cheung, Excellence in Arts and Entertainment; Dr. Parampal Gill, Excellence in Medicine; Pervaiz Lodhie, Excellence in Business; Lillian Nakano, Excellence in Civil Rights; June Pouesi, Excellence in Community Service; and Joey Quinto, Excellence in Journalism.

The award for excellence in business was presented to Pervaiz Lodhie, who established Ledtronics® in 1983 in Torrance, CA.

Ledtronics® designs, manufactures and packages energy efficient, environmentally friendly light emitting diode (LED) lamps. Lodhie was the recipient of the United States Small Business Administration's Award for Excellence. He also founded and serves as chairman of the Pakistani-American Business Executives Association and is a founding director and trustee of President Musharraf's Pakistan Human Development Fund. He is an active member of the U.S. Trade Advisory Committee for Congresswoman Jane Harman, and was recently invited to serve as a member on the International Circle of the World Affairs Council.

In addition, Lodhie has served as chairman of the Industry Advisory Board for the College of Engineering, Computer Science and Technology at California State University, Los Angeles. In 2004, he became one of the founding directors of PAL-C, an initiative that brought about the successful Pakistan Congressional Caucus in the U.S. Congress. He is a past member of the World Affairs Council International Circle and is also a founding member of the Multi-Cultural Advisory Committee, a community outreach program initiated by the U.S. Department of Justice on the west coast. Lodhie holds a Bachelor of Science degree in Mechanical Engineering from California State University at Los Angeles and was honored as its alumni of the year in 1999.