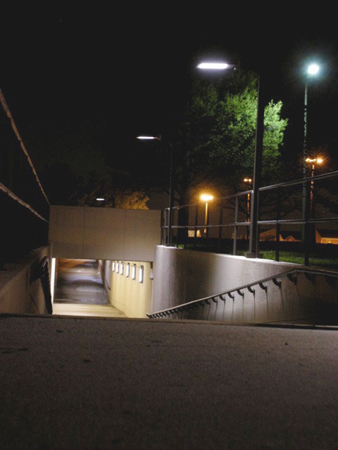 Three different LED lighting products from LEDtronics are used in and outside the pedestrian tunnel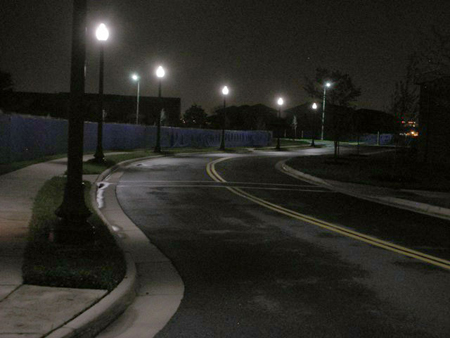 About 200 LEDtronics high-power, acorn-style street lamps light up the Bolling AF base's Angell Street
"Energy Conservation: It Starts with Awareness" was the theme for the 2009 Energy Awareness Month at Bolling Air Force Base in Washington, D.C. Through the program promoted by DOE each October, the AFDW sought to showcase the base as a nationally recognized model for energy and water conservation, and have replaced some of the power-hogging street lamps on the base grounds with eco-friendly LED lights from Torrance, California-based LEDtronics, Inc.
Three different LED lighting products from LEDtronics appear in the top photo: a set of SLL003PC-400-XPW-005 ceiling/wall Slim Line Shoebox luminaires illuminate the pedestrian tunnel; another set of SLL003P-400-XPW-004 pole-mount Slim Line Shoebox luminaires lights the walkway leading into and out of the tunnel; in the background on the right is one of the SLL002P-3D60W-XPW-004 M400 Cobrahead-style streetlight luminaires. In the bottom photo, some 200 high-power, acorn-style street/walkway LED30MH-600-XPW-001 lamps keep the base's Angell Street well lit at night.
In use since it was founded in 1918 on the east side of the Potomac River, Bolling AF Base is home of the USAF 11th Wing, "The Chief's Own." Once an important airfield in the Air Force's inventory, Bolling was made into the headquarters for all Air Force operations in the National Capital Region in 1985.