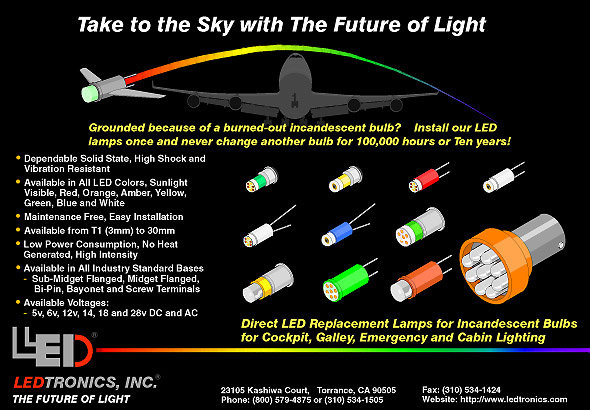 Grounded because of a burn-out incandescent bulb? Install our LED lamps once and never change another bulb for 100,000 hours or Ten years!
Dependable Solid-State, High Shock and Vibration Resistant
Available in All LED Colors, Sunlight Visible, Red, Orange, Amber, Yellow, Green, Blue, and White
Maintenance Free, Easy Installation
Available from T1 (3mm) to 30mm
Low Power Consumption, No Heat Generated, High Intensity
Available in All Industry Standard Bases
- Sub-Midget, Flanged, Midget Flanged, Bi-Pin, Bayonet, and Screw Terminals
Available Voltages:
- 5V, 6V, 12V, 14, 18 and 28V DC and AC

Direct LED Replacement Lamps for Incandescent Bulbs for Cockpit, Galley, Emergency, and Cabin Lighting
For information on our Avionics LED lighting and packaging options, call us at (310)534-1505 or FAX us at (310) 534-1424.