For qualified applications and large quantity orders:
Industry standard bases
Choice of colors
Bi-color bulbs
Special voltages
Flashing/ strobe circuit

3D PedLED™ bulb beam spread
when fixed in a parabolic reflector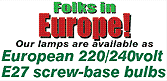 Please contact our International Reps
Patent # Des. 434,510

White LED technology is patent protected in the US. LEDtronics White LED products are covered under these patents.
When Installing Lamps Used In Potentially Corrosive Environments
LEDtronics suggests that a silicone moisture-barrier sealant be utilized.
Sealant is highly recommended for all outdoor-environment LED bulb installations to prevent water and/or moisture incursion that can lead to premature degradation of the bulb base and eventual bulb failure. This is
especially recommended
for LED bulb installations
near saltwater bodies
.
Dow Corning® 111 (Master-Carr product number 1204K32, 5-oz. tube) is a high-temperature, moisture-resistant, insulating silicone grease. If liberally applied to the clean surface of the lamp socket and the base of the lamp itself, a degree of moisture resistance will be offered.

Material Safety Data Sheet for Dow Corning® 111 Valve Lube & Sealant